Supercharge your workflow: all reviews in one place 
Hotel reviews play a vital role in the decision-making process. It's an authentic insight into a traveler's experience and can help paint a picture of what you can expect from an establishment. We don't expect you to go through each review. Instead, we've built a database that consolidates all reviews for these accommodations into an easy-to-read format. 
Ratings for each parameter are summed up and divided by the number of reviews. 
Please, note
New reviews from providers are displayed in most countries where our partners operate. If Expedia, Hotels.com, and Vrbo user ratings have not appeared in your "Personal Account," please contact your account manager.
Before sending a request, please check for new reviews for several accommodations in different cities and countries. It's possible that a specific destination or hotel is not in demand on our supplier websites, and there are no reviews for them yet.
Tailor your feedback view: language and rating controls explained
The system displays reviews based on the language of the interface by default. Select the desired option in the upper right corner if you want to see reviews in another language.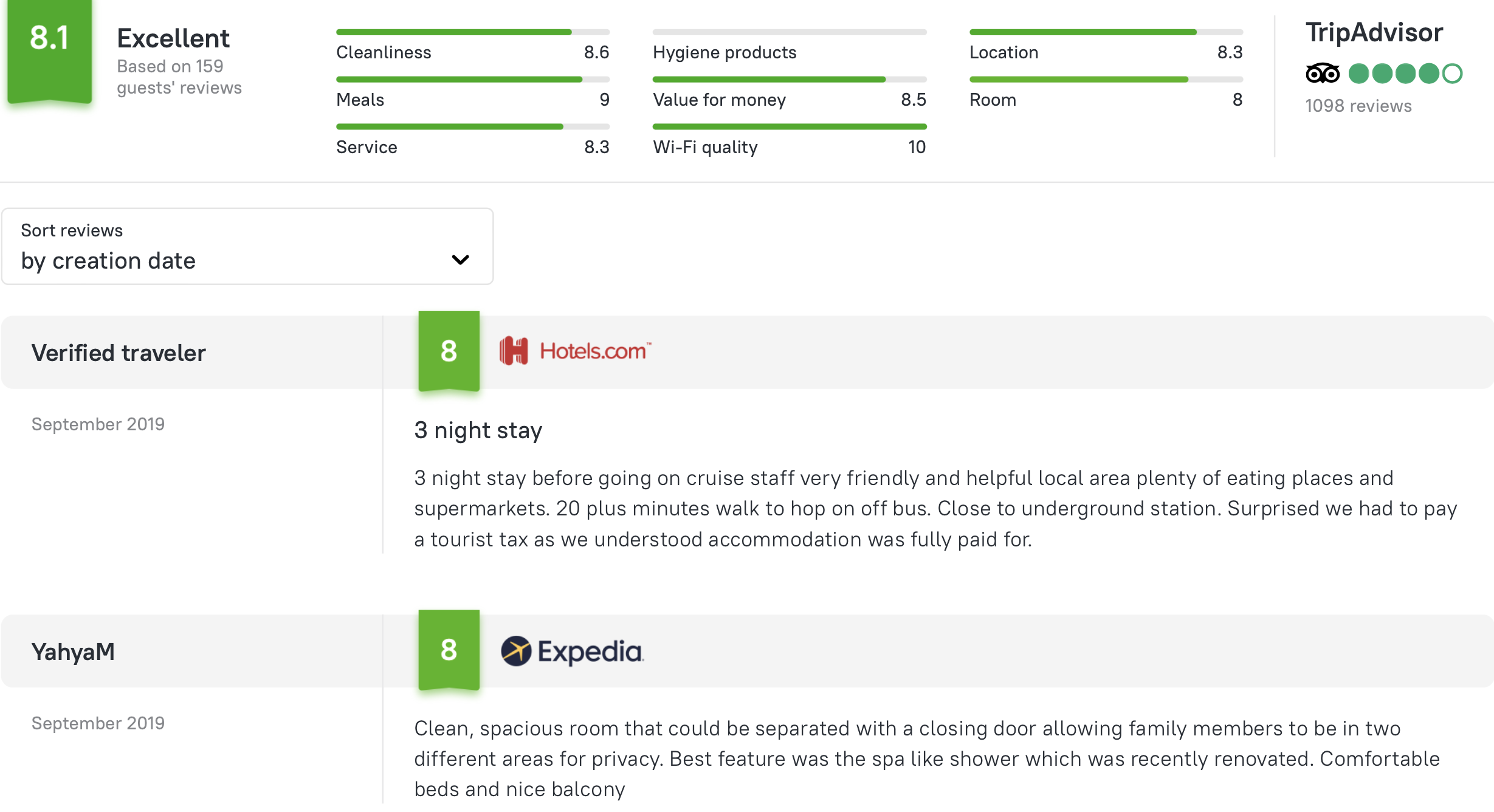 Tailor your review search with a sort option:
Select "high ratings first" if you want positive reviews.

Select "low ratings first" if you're interested in negative reviews.

Select "by creation date" for the most up-to-date reviews.
These filters help narrow down your criteria even further. 

Energize your business further: m
ake informed hotel choices through guest feedback
By assessing the shared experiences of previous guests, potential visitors can make informed choices that align with their preferences and expectations, ensuring that their stay is both comfortable and memorable.
Here's what you should pay attention to:
Profile match.

Families with children, young people, and business travelers have different accommodation criteria. Focus on the reviews from guests who resemble your clients.

Review date. Consider recent comments (sort by data creation). Negatives mentioned in old reviews may no longer be relevant. For example, guests complained about poor maintenance in 2020, but the hotel underwent renovation in 2022.
Relevant information about drawbacks.

Clarify with your clients what amenities are crucial for them and which ones they can do without. For example, some guests may give a hotel low ratings due to the lack of nightlife entertainment, but this won't bother those who prefer a peaceful stay.

---
Expanding the review database helps you select tailored accommodation options for your clients even faster and helps compile high-quality hotel selections
Do you have a question or something more to share? Contact your account manager or online support today.
Energize your business with our reviews!
Note that currently, Expedia reviews are not available in all regions. We'll update you if something changes.